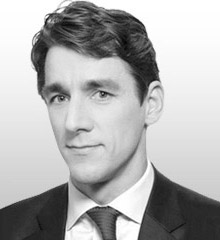 Jeremy Wall
Founder & Group Managing Director
Hong Kong

Jeremy is the Founder & Group Managing Director of JPWALL, based in Hong Kong.

He has been involved in all phases of the firm's development since its founding in 2007 and is responsible for ensuring the highest level of quality, technical advice and dedicated service to clients across the region and the continued development and growth of the firm.

Based in Asia since 1999 and widely regarded as the region's most experienced general insurance actuary, Jeremy has advised insurers, regulators and industry groups in Hong Kong, Singapore, Malaysia, Thailand, The Philippines, Indonesia, Vietnam, Taiwan, Sri Lanka, Labuan, Saudi Arabia, Bahrain, China, Japan, Korea, as well as Australia, New Zealand and the South Pacific.
Mergers & Acquisitions
He is very experienced in Mergers & Acquisitions, the use of Actuarial Appraisal Valuations in Due Diligence exercises, bringing together buyers and sellers and assisting with negotiations.
Jeremy has led over 100 actuarial appraisals and merger and acquisition assignments across the region. He combines a thorough technical knowledge of appraisal valuations together with deep local knowledge across all Asian markets to provide clients with unmatched expertise and advice during the due diligence process.
Profitable Growth
He is very experienced in Data Analytics, Motor and Non Motor Pricing using Generalized Linear Modeling for Customer Segmentation and has built pricing models for insurers and industry-wide tariffs in all lines of business.
Having completed over 50 GLM modeling assignments, Jeremy has personally guided many of the largest general insurance companies in Asia in setting up world class pricing and customer segmentation models – leading to significantly enhanced profitability.
Risk Management
Jeremy is also very experienced in capital modeling, stress testing, reinsurance optimization and capital allocation using Dynamic Financial Analysis. He has built capital models for small, medium and large insurers (and reinsurers) to test future solvency requirements, optimize reinsurance retentions programmes, simulate business plans and to allocate capital across lines of business. In addition, he has built capital models for mortgage insurers, banks and credit corporations across the region.
Having reviewed and certified insurance reserves for all the main RBC frameworks across the region, Jeremy has considerable experience in determining general insurance reserves for insurers and reinsurers - and has developed JPWALL into the largest provider of statutory reserving advice across the region. He has led the development of techniques and processes which are now widely used in the region by both clients and other consultants across Asia and continues to lead the industry in making the reserving process efficient, effective and insightful.
Jeremy began his career with Tillinghast-Towers Perrin in Sydney after graduating with a Bachelor of Mathematics specializing in probability and statistics. He has worked in both life and general insurance roles and successfully passed the specialist life insurance and general insurance examinations of the Institute of Actuaries of Australia.
He is a Fellow of the Institute of Actuaries of Australia (FIAA) and is a Fellow of the Actuarial Societies of Malaysia, Singapore, Hong Kong and Thailand.
---
Jeremy can be contacted at
jeremy@jpwall.com
BACK